5G CORE NETWORK SIMULATOR
5G network simulator play a key vital role in many aspects of 5G research. 5G network is the technology of the future that is going to enhance a great extent in wireless communication by offering various services as follows. .
URLLC or Ultra – reliable low latency communication
eMBB or Enhanced mobile broadband
mMtc or massive machine – type communication
Many more applications of 5G are still being explored by researchers at large. There are instances around the world where 5G test trials have proven to be more efficient. So choosing to do research in the 5G network simulator is the best choice a researcher can make.
We are here to offer you the most reliable online research guidance and support for your projects on 5G networks. You can get all the pre-requisites necessary for your research from our technical experts. Here is an overview of research in 5G technology with the perfect simulation techniques to use. Let us first start with the issues associated with 5G networks.
TOP 5G NETWORK SIMULATOR ISSUES
Understanding the issues in 5G networks plays a key role in taking your research to the next level. This is because a research work is lauded for its ability to find better solutions to the existing issues. The following are the challenges faced by researchers in 5G
Slice security
Flow of traffic (adaptive)
Privacy issues
In sufficient QoS
Slice isolation
Our engineers have made efforts to overcome these issues by using customized approaches with the latest technological advancements. The projects that we guided received approval from respective institutions of the scientific world. Interact with our technical team to establish your research work successfully. Now let us talk about 5G services and their quality of service requirements.
5G SERVICES AND QOS REQUIREMENTS
The 5G services have caught the limelight recently in many parts of the world. It is high time that we look into the different QoS essentials in 5G network services. The following are the details on it.
URLLC

High reliability with error rate of 10-9
Minimal latency – 1ms
Reduced bandwidth of about 100 kbps
The instances of URLLC applications include the following
Controlling drone activity
Establishing self – driving automatic vehicles
Cobots for advanced industrial applications (industry 4.0)
Controlling smart grid applications

eMBB

It has a maximum throughput of 20GB per second
The least value of bandwidth is about 100 Kbps
The mobility is as high as 1 Gigabyte per second of throughput
The examples of eMBB applications are listed below
High quality streaming of videos
Browsing videos at 4K – HD

mMTC

Maximum number of devices that can be interconnected is about one million
The bandwidth is low which is around 25 kb per second
The applications of mMTC is given below
Better mechanism for Tracking of assets
Applications in smart city implementations and its utilities
The simulators form an important part of any 5G network projects. This is due to the fact that these simulators can be deployed to enhance the 5G usage in many ways, as discussed below.
Offloading
Device and user authentication in 5G
Flow migration (dynamic)
Slice scheduling (both inter and intra network)
Scheduling the flow of traffic
VNF placement
Slicing (interface design) using NFV and SDN
Mobile edge computing slicing methods
Slicing in large networks (end – to – end)
Provisioning of QoE to 5G users in a cognitive way
RAN slicing security (for intelligent communication applications)
Network slices that are customized
Slice isolation
We have designed simulators in such a way as to benefit the researchers in a customizable manner. We regularly appraise our customers about the simulation results in any kind of environment and real-time application scenarios. We have also established alliances with researchers from world-class institutes. This will be of great use to you as you can get the chance to talk to them easily. We make necessary arrangements for the purpose. Now let us see about the features of 5G networks.
5G NETWORK FEATURES
The characteristic features of 5G technology are the major reason for its expanding advantages. Let us see some of the prominent characteristics of 5G networks briefly below.
Range – 200 metres
Frequency band – less than 6 GHz and between 20 and 60 GHz
Maximum rate of data exchange – 1 GB per second
5G Provides efficient scalability
The channel bandwidth is about 400 MHz
Modulation offered – OFDM, QPSK, BPSK
Maximum reliability is ensured
Low rate of latency
The cost of module is very less
Minimum power is consumed
It provides for SLA support
It also supports mobility
The adoption of 5G is intervened by users and organizational establishments on a large scale owing to the above advantageous features. We take the stand of exploring potential 5G application areas as this would benefit a lot of users. We have also been encouraging researchers to orient themselves with the recent and future demands from 5G technology. You can talk to our engineers to know the recent trends and projected future growth of the technology. Now let us talk in detail about the network simulators used in 5G.
5G NETWORK SIMULATORS
Simulation tools and testbeds are the unavoidable associates in 5G networks. The defects of the two are overcome by using them together to supplement the needs. Here we should have enough ideas on two major aspects. One is to know the advantages of network simulators, and the other is to understand its shortcomings. Now let us see the advantages of simulators
Evaluation of novel protocols for network functioning
Verifying the models based on mathematics
Establishing the network parameter relationships
Exploration of dynamics in networks
The simulators are thus hugely important in both the industrial and academic research and development sector. These are useful in analyzing the performance; as a result, working to improve upon them. Now let us look into the limitations of testbed and network simulation tools.
Modification of the ultimate setup of the network along with the supporting algorithms is not possible using these simulators. This is because both of them are under experimental and proprietary stage
Setting up test beds in large scale have deployment and practical challenges which include the available number of sites, devices etc. This aspect critically affects the novel technology implementation.
The reproducibility of the experiment is less as a result of terminal and core network software releases and fluctuations in the channel
Network simulators have to reproduce the real-time situations of the environment. Otherwise, its efficiency and accuracy can be questioned. At the IP and TCP high-level stack, cyber systems the system behavior is to be studied accurately using the simulators. 
At times the simulators cut out to give the exact quantitative results thus requiring some advancements
The complexity of physical occurrences in the following are also determined less accurately by the existing simulators

Radiation of antenna
Consumption of energy
Radio propagation
Thus you can depend on network simulator for the qualitative result, whereas for the quantitative analysis, you should move a step forward to rectify the associated challenges with it.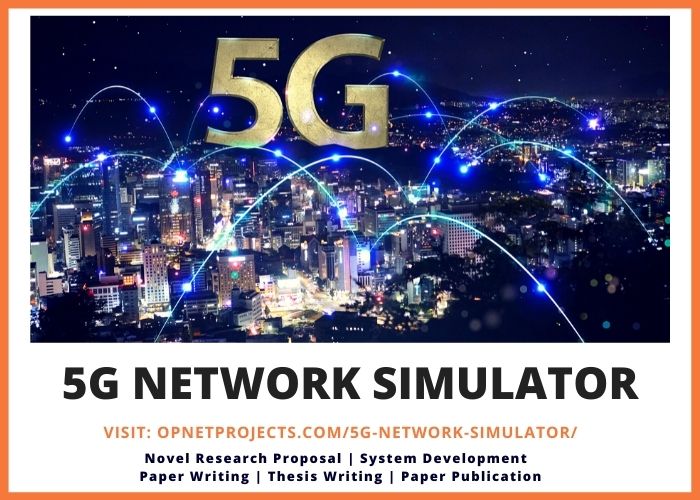 TOP 3 COMMON 5G NETWORK SIMULATORS
LTE UE simulator (open source)
NTESim – supporting 5G core (UPF, SMF, AMF)
NS 3 mmWave simulator (for cellular networks) – NYU WIRELESS
We support you in working with all the 5G network simulators more efficiently as we gained enough research experience in the field. Do you want to have some reliable research data on the 5G simulation? Then connect with us and get our services to meet your demands. Now let us look into the parameters that are analyzed using the simulation tools
5G NETWORK SIMULATION PARAMETERS
The following 5G network parameters are analyzed to understand the performance of 5G networks.
Model of the channel
Operating bandwidth of the channel
The working scenario
Beam angle step
Scheme for modulation coding
Radio scheduler
Condition of the channel
Central frequency of the channel
Shadowing range
Method for beamforming
Controlling the data encoding
Controlling latency
We have modeled many projects in 5G networks and have analyzed their performance on the basis of the above parameters. You can essentially understand the several challenges that remain as hindrances in unlocking the potential of 5G technology for future use with the help of our experts. Get in touch with us for further elaboration on this. Now let us see the main technologies that are supported by 5G networks.
MAJOR TECHNOLOGIES SUPPORTED IN 5G NETWORKS
The technologies that find 5G support are actually the areas in which it is applied. The following are the major applications of 5G networks.
Smart grid applications

Control and reliable communication in smart grid technology
Strengthening the reliability and efficiency of power grids
Cyber physical system implementations on large scale
Advanced sensing techniques

Maximum rate of data exchange on HST

Reliability in maximum data rate exchange (in high speed trains)
DAS or distributed antenna systems

Internet of things applications

Smart devices that are connected to internet
Data Interoperability (for advanced applications)
Deployment of IoT services on large scale

D2D communication

Proximity services
Relays (in mobile devices)
Data communication (peer to peer)

Smart city and smart home application scenarios

Automation in smart home applications
Embedded systems
Security and efficiency enhancement
Smart appliances
Entertainment in automated scenarios
Increasing the sustainability

Health care utilization

Monitoring the health of individuals
Real time monitoring of health in remote patient situations
Processing of huge amount of data
Real time storage and communication processing

Internet of vehicles applications

Big data implementation
Maximum spatio temporal data
Less latency
Safety and security measures
Management of traffic
Reduction of collision probabilities
Vehicular cloud storage applications

M2M communication

Automatic generation of data
Data exchange
Processing and transfer of data
Intelligent machine actuation
Still, there are a lot of areas that are waiting to be explored for 5G deployment so as to enhance its working and efficient functioning. You should also be prepared to face the challenges in the field of robotics that can be easily overcome using 5G. Before getting into it, refer to the following areas in robotics that are the outcomes of 5G network applications.
Robots in agriculture (seeding and ploughing)
Harvesting robots
Robots for spraying pesticides and removing weeds
Robots for irrigating
Monitoring animals using robots
Managing the greenhouse establishments using robots
Our technical have guided projects in the above research topics and have also delivered support to customers using these technologies around the world. So we are well aware of both design-oriented technicalities and also the practical problems faced by users of these methods. So we have got handy solutions to any research challenges in 5G network simulation and implementation. Now let us look into the significant areas of 5G network research.
RESEARCH AREAS IN 5G NETWORKS
The role set to be played by 5G networks is a typically long probed research topic. Typically the advantages of 5G make the research areas in the field continuously expanding. The following are the views of our experts on 5G network research after a complete analysis of recent trends in 5G from authentic sources.
Evolution of radio network

Deploying dense and multiple BS
Standalone mm-wave which is hybrid (legacy network)
Mm – wave penetrations which is limited
NLOS and LOS communication

Smart antennas for next generation applications

Type of antenna specific to applications
Planner, segmented and circular subarray
Narrow beam capacities
SDMA abilities

C – RAN under centralized architecture

Centralized platform applications
RAN service
Fronthaul and backhaul
Radio receiver head
Baseband unit

Air interface (advanced)

Controlling electromagnetic waves using antenna array
Analog and digital beamfoming
Radiation which is directional
Hardware challenges in beam forming

SDN plane splitting

CoMP
Open flow and network design using software
SON for optimizing RAN
Control plane (for various data formats)

HetNets – Heterogeneous approach

Diverse cell interference
Operation in a coordinated
Cells of smaller size (under varying power of transmission)

Radio technology (full duplex)

Improving the latency and feedback
Constrained self-interference
Spectral efficiency is more than doubled
Crosstalk limitations in transmission and reception
Pathloss is limited
SI cancellation (active and passive)

Switched beam

Cost effective implementation
Antenna model that is sectorized
Sectors that are overlapping

Mm-wave channel understanding

Doppler effect
NLOS
LoS
Loss in propagation
Penetration loss
Profile for power delay (multipath)

Massive MIMO systems

Increased antenna quantity for a BS
Combination of small cell and MIMO
Waveform superposition that is coherent
Low power components that is not expensive

Adaptive beamforming

Antenna training
Angle of arrival
We are ready to provide you research support on any topic of your interest. We will provide you the necessary technical needs for your project on 5G network simulators. We help you to achieve huge success in the field. We have helped researchers survive the relentless challenges that occur in 5G network research. For this purpose, our technical experts have been updating themselves by gathering information from reliable research materials. Now let us talk about the approaches that are essential to be noted in the 5G network simulation.
What are the approaches can be simulated using 5G network simulators?
5G network simulators play a key role in many aspects of 5G research. The simulation tools in 5G networks can be efficiently used for the following purposes.
Integrating renewable energy

Sources of energy: Wind, solar and hybrid energy
Advantages:

Minimal on – grid power consumption
Off – grid BS solutions (long term)

Deployment of heterogeneous network

Methods: deploying cells of varied sizes like pico, micro, Macro and femto
Advantages:

Less cost of deployment
Network based on user
Increased saving

Enhancing energy at the level of BS component

Methods: BBU design, BS site reselection and enhance PA
Advantages:

The energy savings that is large and direct

Management of radio resource

Methods: cell zooming, sleep mode management and radio resources switching (selective)
Advantages:

The cost is reduced greatly
Easy to implement
Considerable energy saving applications

Process of transmission using radio

Methods: relaying in a cooperative manner, cognitive radio, D2D communication, Massive MIMO
Advantages:

It can be potentially applied in different applications with reduced costs
As our technical team is well versed in handling 5G network simulators, you can get their guidance at any time regarding your project on them. Now let us explore the performance metrics used for the analysis of 5G network performance using the simulators.
5G NETWORK PERFORMANCE METRICS
The following are the metrics based on which the performance of the 5G simulator can be analyzed.
Traffic at every slice
Reliability of the system
Service rate
Capacity of the slice
Ratio of slice acceptance
Consumption of bandwidth
Ratio of packets lost
One of the fascinating traits for which our technical team is renowned is our devotion to the work. We go beyond heights to explore the areas that are essential to support our customers in their 5G network simulator research projects. We maintain a steady-state to create a friendly environment for you to work in. Connect with us to know more about the research support that we provide.